Full Year Verification for Large Emitters CORSIA & ETS
Independent Third Party Verification of data compiled by aeroplane operators ensures the consistency of information, and identifies any potential errors in the CO2 Emissions Reports from aircraft operators that are subject to CORSIA and / or EU-ETS. The independet FULL-YEAR AUDIT is the mandatory audit of your reported Annual Emissions or your reported Tonne Kilometre for the current CORSIA / ETS compliance year. The picture below details our audit methodology. Each year the aeroplane operator is responsible for compiling its monitoring data, carrying out a voluntary preverification and preparing its report immediately after the end of the monitoring period.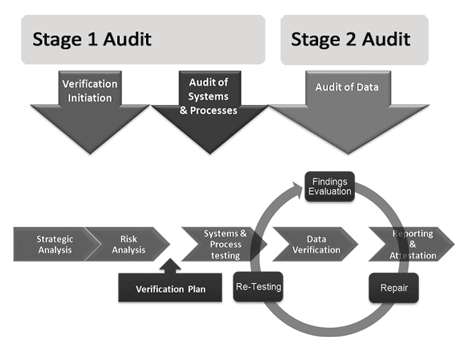 The Full Year Audit process is broken down into 2 stages:
Stage 1 The process and documentation audit
This initial audit step requires an onsite visit to review your processes and the related documentation. We will check whether you have implemented the commitments you made in your monitoring plan correctly. We also review and test the functionality of the implemented system and processes. We will check the data sources, look for data gaps and look for evidence that implemeted controls and procedures are adhered to.
Stage 2 The audit of your annual emissions data
Once the audit year is complete and all flights are collected in your emissions reporting system we will do the math. The verifier has to determine that the reported figures can be calculated on the basis of the submitted monitoring plan. The verifier might request the operator to provide any missing data or complete missing sections of audit trails, explain variations in the emissions data, or revise calculations, or adjust reported data. Any findings will be reported to the AC operator for healing / corrective action.
The Full Year Audit concludes with the provision of the external report, accompanying the attestation and an internal report for the airline operator. The audit is accompanied by a set of recommendations to the aircraft operator for improvement.
This email address is being protected from spambots. You need JavaScript enabled to view it.