Airport Carbon Accreditation Services for airports and installations
Besides the airlines also the stationary installations in the aviation industry are being faced with the challenges of climate change and ever tougher EU regulations. ETSverification GmbH helps to achieve an environment friendly profile and to stay atop the competition by taking advantage of the latest Eu regulations.
Airport Carbon Accreditation Programme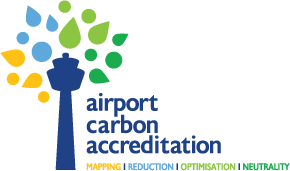 The Airport Carbon Accreditation Programme (ACA) is the carbon management certification for airports programme for airports. It was launched by European airports' trade body ACI EUROPE in June 2009 and is independently administered by WSP Environment & Energy. The programme provides airports with a common framework for active carbon management with measurable goal-posts. Thereby it assesses and recognises the efforts of airports to manage and reduce their carbon emissions with four levels of award:
Mapping
Reduction
Optimisation
Neutrality
Individual carbon footprints are independently verified in accordance with ISO 14064 on the basis of supporting evidence. ETSverification GmbH provides ACA & GHG verification services to airports and installation.